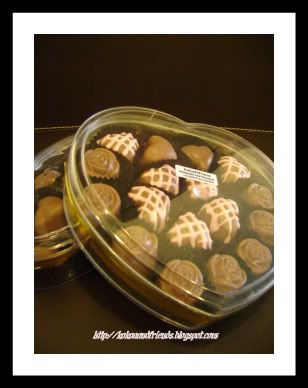 these chocolate were made just for 'mak buyung' of Bodily Injury Claims MAA. She requested for 30pcs strawberry choc. Yes..an hour after that she smsed me telling that she wants 30 more pcs ....
this was requested from my x-boss..Mr CW Chin (hehhe..jgn marahh) he wants to make this pressie - swarozski bracelet with charm - as a standby pressie to his beloved amoi...and we made a super mini card and 2pcs chocs in golden box as a compliment..
yes..we also able to make swarozski bracelets ( our 1st love ..huhuuuu..)...