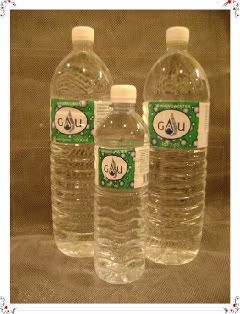 Assalammualaikum wbt,
Gau Drinking Water (water resource: Lot 2219 Mukim Bangau, KM 8 Jalan Maran, Kg Sg Gau,Temerloh,Pahang).
This is 100% Muslim product.
Approved by the Ministry of Health Malaysia KKM/163(52/C/12)
GAU drinking water is categorized as a quality potable water as it contains high levels of mineral salts (TDS 294 mg/I) and is slightly alkaline with a pH level of 7.9, which is higher than human blood pH of 7.4.
GAU drinking water is able to neutralize and eradicate accumulated acidwaste in our body. It is also capable of rebalancing our body's pH level to avoid all kinds of diseases, especially chronic ailments.
In addition, GAU drinking water will supply valuable mineral salts needed by the body to maintain one's health and fitness levels.
Advantages:
* neutralizing body's acidity
* alkaline pH is an energy generator
* reduces high blood pressure
* reduces blood sugar level
* increases the hemoglobin in red blood cells
* boosts fitness levels
* energizes the mind and restores energy
Price:
600ml 24 bottles per box = RM20
1.5ml 12 bootles per box = RM20
Free delivery to Bukit Jalil, Seri Kembangan & Bandar Kinrara only